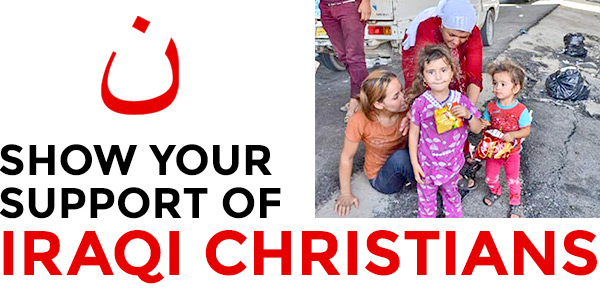 Christian homes in Iraq have been marked by the Islamic militants with the Arabic letter N, which stands for "Nisrani" (Nazrene, i.e. Christian), and declared to be the property of the militants. Christians have been given the ultimatum - Leave - Convert - Pay Tax - Face the Sword.

Together we can send a message to the Iraqi government and its Western counterparts that more must be done to protect and support Iraq's terrorised Chrtistians.




Read about Salem Web Network | Subscription Preferences | Unsubscribe
---
© 2014 Salem Web Network. All rights reserved. 111 Virginia Street, Suite 500, Richmond, VA 23219.

This email is never sent unsolicited. You are receiving this email because your email address, MATTSORRELL1.HISGIRL96@BLOGGER.COM, is signed up to receive newsletters, updates, and special offers from Crosswalk.